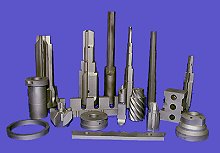 Special Carbide Preforms
Carbide Technologies offers a wide range of preformed carbide tool and wear part blanks in both round and rectangular configurations.
These include:
Step drill blanks with and without coolant holes
Fluted and unfluted reamer blanks with or without coolant holes
Center drill blanks
Double end mill blanks
Single and multiple hole tubing
Special drill blanks
Gundrill blanks
Bushings
Just about any blank with an OD of 3.25in or less and a length of 14in or less.
Special Carbide Extrusions
Our proprietary extrusion process gives us the capability to produce not only standard round and rectangular shapes but many custom shapes as well. Symmetrical and non-symmetrical geometries with an Internal Circle Dimension of up to 3/4in lengths up to 15in.
Unique applications may involve a tooling charge
Fax your sketch to 586-293-5810 or print for a quote or attach your file to our quote/contact form.